Description:
SimpleBlue is my first free widget supported Wordpress theme.  It's simple but stylish. I used bold design on my color selection. A dark gray  background with a deep blur navigation bar makes SimpleBlue very bright-colored.
I build 6 widget column for your convenience.  There are three in the sidebar. The main widget column is 300px wide and two are narrow widget columns in apposition. Three footer sidebar for you to add widgets like 'tag cloud',  'Pages' or others as you like.
Screenshot: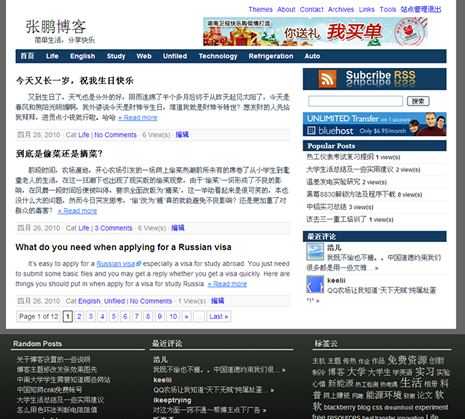 Theme Tags:
dark, light, white, black, gray, two-columns, right-sidebar, fixed-width, custom-menu, rtl-language-support, sticky-post, translation-ready
Supported Languages:
US English/en_US
简体中文/zh_CN
Donate
If you like this theme and find it useful, help keep this theme free and actively developed by clicking the donate button to donate with Paypal.

Downloads:
http://wordpress.org/extend/themes/simpleblue
描述:
SimpleBlue 是我的第一款Wordpress免费主题。主题参考了许多优秀的主题,当然很难找到任何主题的影子。 SimpleBlue主题支持侧栏切可以自选三个位置的侧栏,分别是右侧上部300px款的侧栏、下部140px宽和160px宽的侧栏。
另外,在底部添加了三个可选的小工具显示栏,对于其宽度已经做了适当调整,所以不论只添加一个、两个、三个工具都将正常显示
语言支持:
US English/en_US
简体中文/zh_CN
下载:
http://wordpress.org/extend/themes/simpleblue
使用Paypal捐赠支持我的工作 捐赠